ON SALE NOW!
Regular price

From $20.95

Regular price

$24.95

Sale price

From $20.95

Unit price

per

Regular price

From $15.95

Regular price

$21.95

Sale price

From $15.95

Unit price

per

Regular price

Sale price

$44.95

Unit price

per

Regular price

Sale price

$29.95

Unit price

per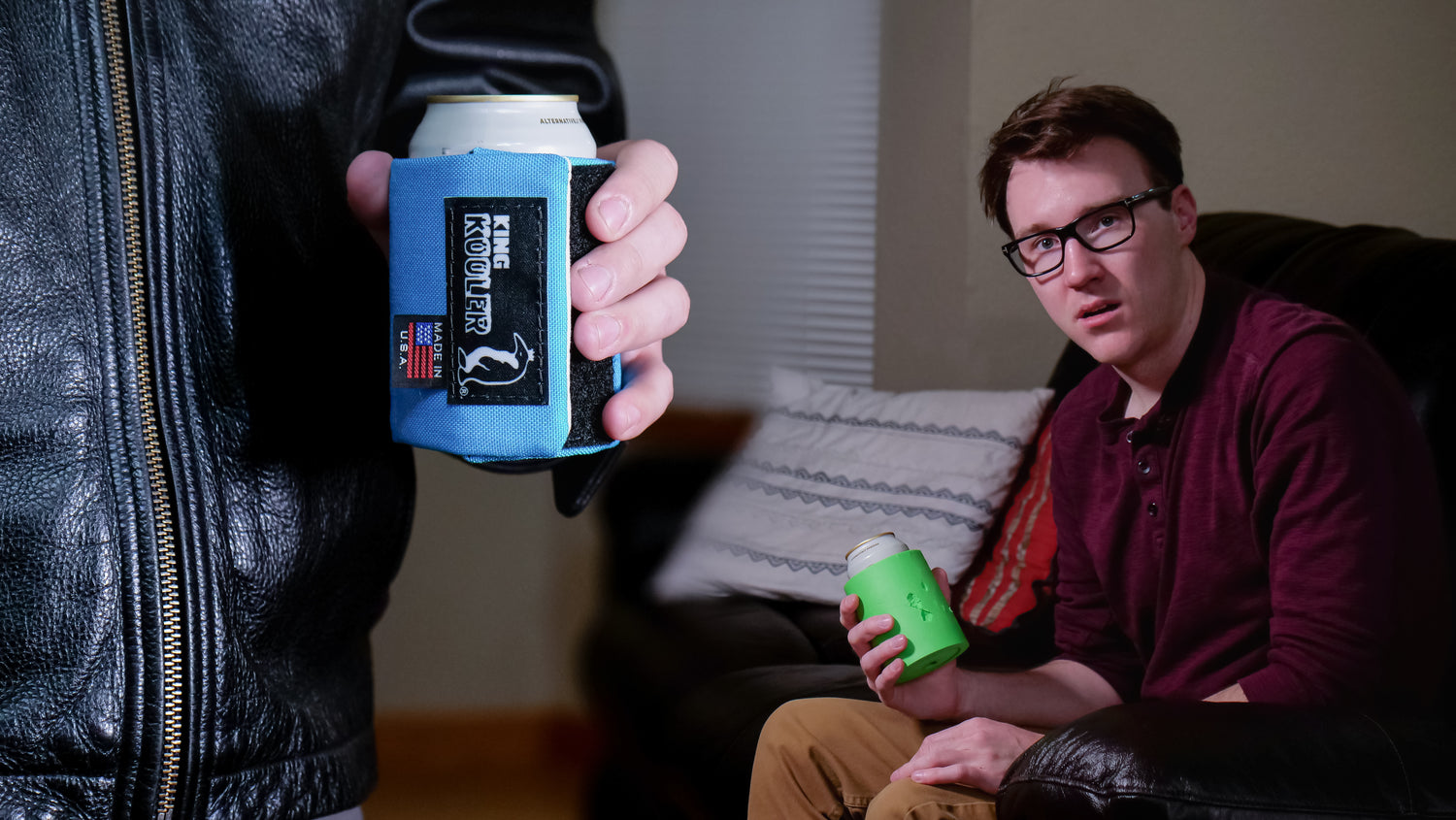 DOES YOUR CAN COOLER FALL SHORT?
Does that old neoprene or foam coozie fail to get the job done and leave you with...
.. lukewarm beverages?
.. slim cans/bottles that don't fit?
.. cold uncomfortable hands?
.. water rings on your table?
.. a sub-par product that doesn't last and makes you feel ... MEH?
UPGRADE TODAY!
THE KINGKOOLER DIFFERENCE
Excellence! Even in a beverage insulator.
ANY SHAPE, ANY SIZE

With 3" of adjustability and a 5 layer cloth construction, they adjust regarless of shape or size.

ANY CAN, ANY BOTTLE*

KingKooler wraps fold down, expand/tighten, and adjust to your favorite drink.
Collapsible content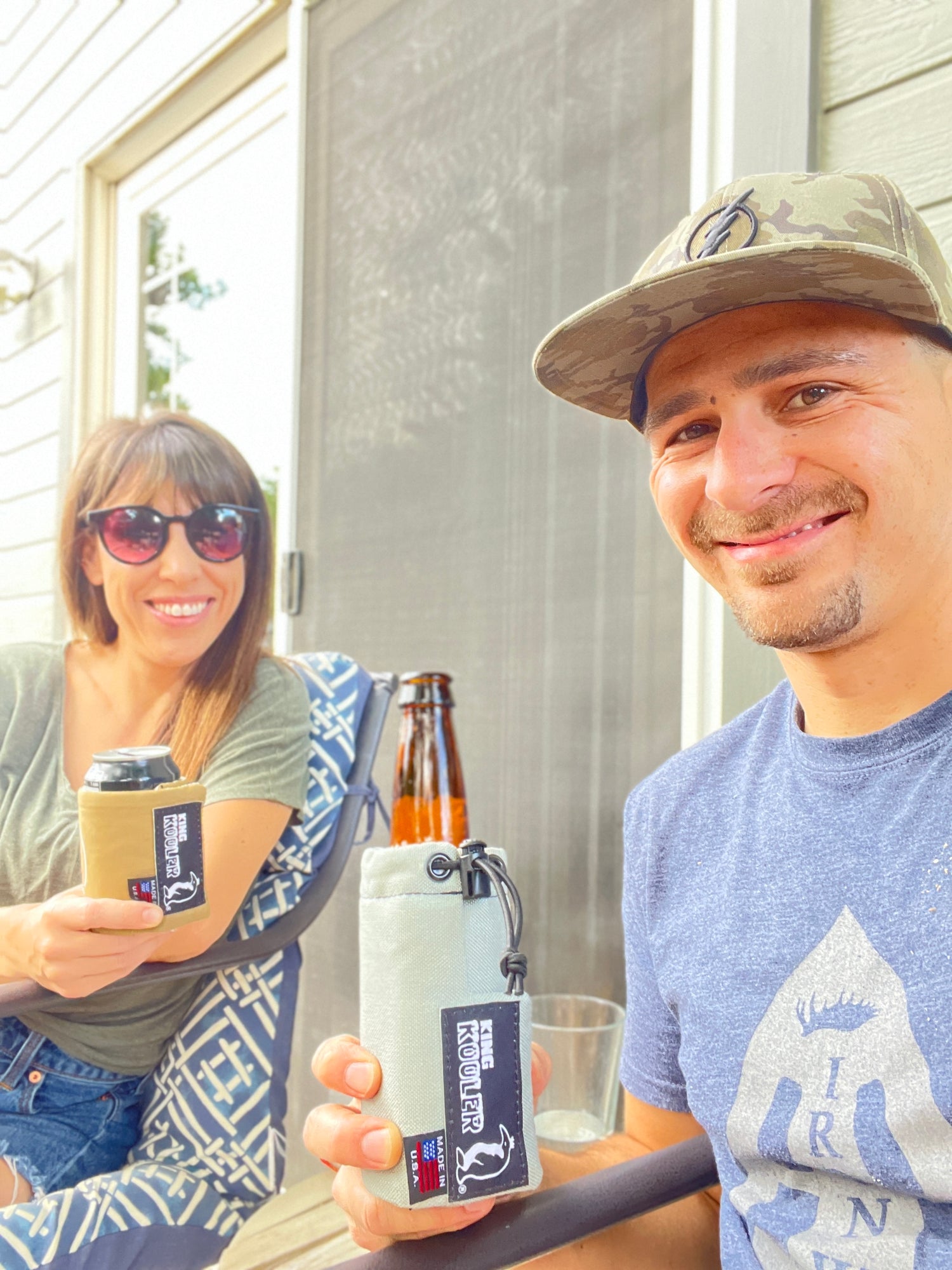 TWO STYLES TO CHOOSE FROM - COMBO vs CLASSIC

KingKooler Wraps come in 2 styles, our Combination Wrap and our Classic Wrap. BOTH Wraps fit all the same beverages.

COMBINATION WRAP - Stands a little taller and reaches higher for taller cans and bottles.

CLASSIC WRAP - A more minimalist design for the minimalist in all of us. Still fits everything the Combo Wrap does.

Not sure which one, try both!
VERSATILITY

Good for any beverage…from an oz - 24oz can to any of your favorite bottled beverages.  Simply adjust the velcro to fit! Seltzer Water, Soda, Pop, Beer, Coffee Travel cups on whatever it is you drink!
LIFETIME WARRANTY

Our founders created their first prototype in the 80s and still use the same ones today.  That is why they come with a limited lifetime warranty that you'll likely never need, but is there just in case.
MADE IN USA 🇺🇸

While it comes at a premium, we decided to keep all manufacturing and all sourcing here in the USA.

This allows us to monitor quality while supporting jobs here in the USA. Shout out to all who serve on the front lines!
QUALITY FABRICS AND CRAFTSMANSHIP

KingKooler wraps are made with quality products that are durable enough to last a lifetime.You can wash, pack, and use your KingKooler wrap again and again.
MACHINE WASHABLE

Wash and Re-use, again and again and again and…. You get the idea. Stop tossing cheap neoprene koozies into the landfill and upgrade to a KingKooler Wrap today!

Machine Wash on gentle and air dry!
SUSTAINABILITY

Now, because our wraps wont break down on you and because you can wash it, you'll no longer need the cheap ones that just end up in the landfill.
GOES WHERE YOU GO

KingKooler wraps will not set off metal detectors, so you can conveniently take them to your favorite sporting event, concert, Disneyland or any other venue.

@ 1.6oz they easily go with you wherever your adventures take you. Smash, Roll, Fold or Shove your KingKooler Wrap in any backpack, glovebox, golf bag, tackle box, or simply your back pocket.
2-DAY SUPER FAST SHIPPING

AMAZON FAST!

We'll get your new beverage insulator delivered to your doorstep in 2-3 days just as fast as Amazon!
TESTIMONIALS
Melanie H

Won mine from the Noco brew fest & absolutely love it! Husband bought one & loves his. Will be buying more for sure. Love the designs & the super friendly helpful people.

Adam N.

Huge fan of the king kooler already! We have used them multiple times and have only had them for 24 hours!

Aaron V

Easy to use and works so well! Keeping my hands warm & dry while my beer stays COLD!

Brooke

I love this coozie! It's very high quality and gives a very cool vibe. It works as advertised and would make a great gift.

Anonymous

Awesome, awesome product! We will be telling all of our friends about these and spreading the word!!

Stacy W

I like this coozie, i can use it on different size bottles, which isn't always the case.